Community Outreach:
W.A.T.E.R. endeavors to ensure our work reflects the vision of the environmentally conscientious members of our community. Thus community outreach and input are paramount to our decision-making. We remain connected with our community via the internet with this web site, e-newsletters (sign up here) and Facebook. We also schedule community forums and gatherings to discuss the work of W.A.T.E.R. and current events. We respond to invitations to speak at other groups' events and talk to the media about our work.
Now with the Covid 19 pandemic upon us, we are complying with social distancing recommendations and not holding in-person meetings. Please bear with us as we sort through options for how to organize public participation remotely.
Community Forum June 18, 2019
"What is happening with the Crystal Geyser EIR?" January 25, 2018: After the Siskiyou County Board of Supervisors denied our appeal and approved the FEIR, we initiated a legal challenge. Knowing that part of the litigation process would involve mandatory settlement discussions, we gathered the community to learn what they felt would be appropriate mitigations for the bottling plant impacts. Community members shared their perspectives which were incorporated into our list of mitigation demands.
Community Forum January 25, 2018
"Making Public Hearing Comments: A Public Forum on How to Speak at a Public Hearing," November 14, 2017: In anticipation of public hearings regarding the Crystal Geyser FEIR, W.A.T.E.R. organized a community forum to educate the community about how to make public comments and to discuss unresolved issues with the FEIR. Community members joined in discussions of issues pertaining to the Siskiyou County Planning Commission's approval of the Crystal Geyser FEIR, and we shared strategies for making public comment at the upcoming appeal hearing by the Board of Supervisors (BOS). At that BOS hearing, 17 people spoke out concisely and eloquently in opposition to the approval of the flawed FEIR.
Invitations to Speak:
W.A.T.E.R. board members also respond to invitations to speak at events sponsored by other groups. For examples:
• In June of 2019, W.A.T.E.R. was invited to speak at a Water Forum sponsored by the Shasta Democrats in Redding, CA.
Read Geneva M. Omann's presentation
Read Dan Axelrod's presentation
• Board Member Raven Stevens participated in part 5 of EcoJustice Radio's "Plastic Plague Series, The Bottle Scam." The hour-long discussion included Stiv Wilson of @peakplastic and producer of the film, "The Story of Plastic," and addressed the connection between the water bottle scam and the fight for Land, Water, and Indigenous Rights. The chain of environmental and social impacts is an embedded cost of bottled water, a resource that is supposed to give us life, but now arguably the process to extract, make, ship, store and dispose of seems to take from it.
Community Forums:
In June 2019, W.A.T.E.R. organized a Community Forum entitled, "Water and the Environment around the Mountain," engaging community groups and a local Tribe to educate the public about water resources and environmental issues facing our mountain ecosystem. The forum included a presentation from W.A.T.E.R. on what is happening with the challenge to the Crystal Geyser project EIR; a Winnemem Wintu talk about how using AB52 in the CG lawsuits and the Shasta Dam raise can protect the sacredness of water at the source, downstream and beyond; a report on the situation with the Roseburg water grab of the City of Weed's water source from Water for Citizens of Weed, CA; an update from the McCloud Springs Alliance on the plans for a water bottling plant in McCloud and the community's response; an update from the Mount Shasta Bioregional Ecology Center about the Medicine Lake Geothermal project and lawsuit. The presentations were followed by a discussion of what steps we as a community can do next to promote preservation of the environment in our region.
Joining the International Community:
CGWC is owned by a Japanese company (Otsuka), and Japan is a significant market for Crystal Geyser products, thus we were delighted in the fall of 2018 to host Ryoko Seguchi from the Sui Do! Network in Japan who joined us in discussions about the environmental impacts of pollution from PET bottles, the type of bottles most frequently used for bottled water and beverages. Ryoko presented data showing that drinking tap water has a significantly lower environmental impact than bottled water. In response to that data, Sui Do! (in English, "Tap Water Do!") was launched in Japan to promote the use of tap water instead of bottled water. The campaign focuses on engaging local governments in developing publically accessible "water oases" (places within cities with easily accessible drinking fountains and water bottle refill stations), and promoting life styles that are not reliant on commercially bottled drinks.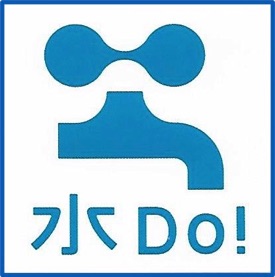 W.A.T.E.R. Board members, volunteers, and community members meet with representatives from the Japanese organization, Sui Do!
The discussions sparked two projects W.A.T.E.R. has since undertaken, one to support installation of a public drinking water bottle refill station in Parker Plaza in the City of Mt. Shasta, and the other to educate the community about reducing the use of single-use plastics.