Monday, May 22, 2023
On Wednesday May 31st, W.A.T.E.R. is hosting a presentation on Debunking Wildfire Myths by Dr. Chad Hanson, a research ecologist and the director of the John Muir Project of Earth Island Institute.
Natural fires are as essential as sun and rain in fire-adapted forests, but as humans encroach on wild spaces, fear, arrogance, and greed have shaped the way that people view these regenerative events and have given rise to misinformation. The peril that these myths pose to forests is profound—affecting whole habitats and the wildlife that depend on them. The exploitation of these carbon dioxide-absorbing ecosystems also threatens humanity's chance...
Sunday, April 10, 2022
The unusual weather this winter - wet in October and December, then almost totally dry until mid April - raises a serious question: was this persistent pattern a forerunner of what we should expect from global warming? Or was it just a fluke?

The scientific answer is complicated and incomplete, but progress is being made. Two important peer-reviewed scientific studies were recently published in technical journals on this matter, using computer-based modeling. One of them (Swain et al, Nature Climate Change, 2018) predicts that precipitation in California will become much more "volatile". Many winter seasons will feature precipitation that...
Monday, June 14, 2021
The Shasta River, collecting water from Mt. Shasta and the Eddy Mountains, meanders for 58 miles through the Shasta Valley, draining into the Klamath River.  For millennia, half of all salmon returning to the entire Klamath and Trinity watersheds came back to spawn in the Shasta River, until the early 20th Century when massive irrigation development depleted the river's water thus robbing it of its native Coho and Chinook salmon spawning habitat. Excessive irrigation continues today in the Shasta Valley, where water-hungry crops are grown in a desert environment.  Although the Shasta River historically has flowed at rates greater than 150 cubic feet...
Sunday, June 13, 2021
The City of Mt. Shasta is preparing a mobility plan called Walk Bike Ride Mt. Shasta. Through this effort, the City will develop strategies and ideas for transportation improvements to foster a vibrant, sustainable community with accessible connections between businesses, neighborhoods, schools, and our surrounding natural environment.
How can streets be made safer? How can it be made easier for more people to walk, bike, or ride the bus to get where they need to go? How can the transportation system support local businesses, be resilient to climate change and adapt to changing technology?
The City will be working on this study from March...
Wednesday, May 26, 2021
It was reported at the May 10 Mount Shasta city council meeting that Crystal Geyser Water Company (CGWC) is not proceeding with their beverage bottling project and the property is up for sale. This was reported shortly after We Advocate Thorough Environmental Review (W.A.T.E.R.) and the Winnemem Wintu Tribe (WWT) filed a brief with the State Appeals Court challenging Siskiyou County's shockingly inadequate Environmental Impact Report (EIR) for the CGWC beverage bottling plant. W.A.T.E.R., the WWT, and large numbers of local residents and others concerned about the environment enthusiastically welcome the departure of Crystal Geyser.As many people...
Wednesday, May 12, 2021
At the May 11 Mount Shasta city council meeting council member Tim Stearns stated that Crystal Geyser representatives had called council members to inform them that Crystal Geyser has "no intention of proceeding" with the project, that they have placed the property up for sale and that they have "vacated" the building that was to be the beverage bottling plant on Ski Village Drive. Council member Stearns advocated using this information to annex the property into the city limits to have more control over the property's future development. Stearns had previously been one of the major boosters of the project, having "cut the ribbon" for it at a ceremony...
Monday, March 29, 2021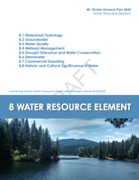 The City of Mount Shasta is planning to update the city's general plan (City General Plan webpage). Included in this is an important section on water usage and planning (Water Resource Element PDF). W.A.T.E.R. found serious deficiencies in this document and has submitted comments to further protect and preserve our water resources. Some of our comments: •  "All ordinances on the books must be reviewed as to how the Water Element is affected. For example, the Water Bottling exemption is still on the books, that must be removed as soon as possible. Every project must be permitted and able to be reviewed rather than ministerial permits which allow projects...
Monday, January 25, 2021
Submitted by Geneva Omann
I am here as a representative of the non-profit, WA.T.E.R. to request that the City Council send a formal request to Siskiyou County asking that they initiate negotiations with Pacific Power  to put the powerlines associated with the Lassen Substation upgrade project underground. Please make this an agenda item for your next meeting and act as quickly as possible.  The area for these lines is within your "sphere of influence" and as an agency, keeping our area safe from fire danger is crucial.  
These lines are in unincorporated Siskiyou County and the County has $5 million in Rule 20A funds that are expressly...
Wednesday, January 20, 2021
Reckless Logging Will Increase Wildfire Risk for Mountain Towns
By Karen Maki, Jeff Stone, and Raven Stevens for We Advocate Thorough Environmental Review
Over four million acres burned in California in 2020.  Despite this unprecedented climate disaster, CalFire is poised to increase future wildfire risk for residents of Dunsmuir, Mt. Shasta City, McCloud and Castella by approving the Soda Springs Timber Harvest Plan (THP), which would use an unnecessarily dangerous even-aged logging method, similar to clearcutting. 
Changes to Forest Management Will Reduce Wildfire Risk
California officials and state agencies have repeatedly...
Monday, January 4, 2021
First Call for Action in 2021!
It takes our collective voices to make change. Contact the Mt. Shasta City Council, Board of Supervisors and the Public Utilities Commission (CPUC) and demand the power lines be put underground. They need to hear from the community!
Speaking at the December 14 Mount Shasta City Council meeting, W.A.T.E.R. continued to push for undergrounding the proposed power line expansion along Old Stage Rd, crossing Fish Hatchery Ln. This project proposes to enlarge and heighten the power lines leading from the power substation to the Crystal Geyser plant, the primary beneficiary of this project. This power line project...
Monday, November 23, 2020
Mt. Shasta is at a pivotal turning point, we know that single use plastic is devastating the environment and most plastic is NOT recycled. W.A.T.E.R. is working with local agencies and businesses to reduce plastic use right here in Mt. Shasta. During last July 4th's walk/run, the Mountain Runners stopped distributing single use water bottles in favor of water refill stations, greatly reducing the amount of plastic waste from that event. What an exciting shift!  W.A.T.E.R. then worked with the City of Mt. Shasta Beautification Committee and City Council who approved a water bottle refill station and ADA Drinking Fountain Water Bottle Refill Station...
Monday, November 9, 2020
Last December we noticed that Crystal Geyser removed two large cooling units from the North side of the building. Within the last month Crystal Geyser also removed two large gas tanks and an evaporator on the East side. Crystal Geyser has not revealed changes to their previously stated plans for the plant or its operations. In a continuing pattern of secrecy, as far as we know, neither Siskiyou County or City of Mount Shasta officials have been informed of what Crystal Geyser plans to do with the plant. In January 2020 a Crystal Geyser spokesperson said they "continue to assess (their) California business strategy..." (Mount Shasta Herald).