Wednesday, September 14, 2022
Lessons Learned from the Crystal Geyser Campaign
Published as a Guest Editorial by Daniel Axelrod in the September 7, 2022 Mount Shasta Herald
This past May, something good happened. The California Court of Appeals found that Siskiyou County, CA, and Crystal Geyser Water Company (CGWC, a subsidiary of a multibillion- dollar Japanese Pharmaceutical corporation) used dubious procedures to push through approvals of a beverage-bottling plant on Ski Village Drive in Mt. Shasta, CA; approvals which violated established environmental law. This correct decision came well after CGWC itself decided to withdraw from the project in the face of what...
Wednesday, March 2, 2022
Water for Citizens of Weed California (WCWC) is actively defending citizens' rights to participate in civic activities. W.A.T.E.R. feels this is so crucial that we have submitted an Amicus Brief ("friend of the court") supporting this lawsuit (link HERE). Fighting this corporate bullying designed to silence civic engagement is vital for all citizens and organizations.
As a grassroots community group WCWC was outspoken in objecting to Roseburg Forest Products (RFP) efforts to force the City of Weed to give up water from Beaughan Springs that the citizens had enjoyed for over a century. For those efforts, WCWC was sued by RFP in what was declared...
Monday, November 29, 2021
The new water bottle refill station is installed and working.Dedication this Saturday!December 4, 2021 from 1-2 PM
Saturday, November 20, 2021
Crystal Geyser Lawsuit ContinuesIn 2013 W.A.T.E.R. organized to challenge the proposed Crystal Geyser Water Company (CGWC) beverage bottling plant which would have proceeded without an environmental review, even though there was considerable community concern about suspected significant environmental impacts of plant operations. The seven and one-half years of persistent community work paid off. In May of 2021, CGWC issued a public statement that they will not be operating the beverage bottling plant and the property was listed for sale. W.A.T.E.R. and many in the community are hopeful the property will be used by a new occupant for purposes benefiting...
Thursday, October 28, 2021
Underground the Lassen Substation Power Lines!Current power lines crossing Hatchery Lane, due to be replaced with taller poles and increased voltage.

After the complete destruction of Paradise, CA and Greenville, CA in above-ground powerline-initiated fires, you would think that the authorities and electric power companies would do the best they can to assure that any new construction was undergrounded and fire safe. But you would be wrong. Pacific Power is still planning to replace a major above-ground line just west of I-5 and Mt. Shasta City, not with an undergrounded line, but with 1.5 miles of above ground metal tower-supported lines.The...
Wednesday, September 1, 2021
Over Extraction and Drought Decimate Local RiversState Water Board approves Drought EmergencyRegulations for the Scott River and Shasta RiverSince May, when Governor Newsom declared a drought emergency for many parts of the state, the State Water Resources Control Board (SWRCB) has been developing drought emergency regulations for the Scott and Shasta Rivers. The process has involved several public hearings and comment periods. W.A.T.E.R. submitted a forceful letter advocating immediate and strong action to protect the rivers.
On August 17 the SWRCB approved Drought Emergency Regulations for the Scott River and Shasta Rivers, likely to go into...
Tuesday, July 20, 2021
Crystal Geyser, Siskiyou County and Mt. Shasta City continue to defend EIR on abandoned plant project in Mount Shasta.

W.A.T.E.R. and the Winnemem Wintu Tribe (WWT) have filed reply briefs to the briefs filed by Siskiyou County, Mt. Shasta City and Crystal Geyser (respondents) in our ongoing struggle to overturn the flawed Environmental Impact Report (EIR) on the Crystal Geyser (CG) plant project in Mount Shasta. Even though CG has announced its decision to abandon the plant project and put the property up for sale, CG continues to defend the EIR in court. We believe it is essential to continue this case to prevent the flawed EIR from...
Tuesday, June 15, 2021
Mt. Shasta's Parker Plaza will soon be home to a drinking fountain and water bottle refill station. Community members and visitors alike will soon be able refill their own reusable water bottles with pure, world famous Mt. Shasta water. Spearheading this effort, W.A.T.E.R. worked with the City of Mt. Shasta Beautification Committee to make this project possible and last year the City Council approved a Water Bottle Refill Station & ADA drinking fountain at the NW corner of Parker Plaza with W.A.T.E.R. pledging to raise the needed funds. We were able to arrange a $5,000 grant from Plastic Oceans International's 'Rethink. Refill.' program, a  $4,974...
Monday, June 14, 2021
The Shasta River, collecting water from Mt. Shasta and the Eddy Mountains, meanders for 58 miles through the Shasta Valley, draining into the Klamath River.  For millennia, half of all salmon returning to the entire Klamath and Trinity watersheds came back to spawn in the Shasta River, until the early 20th Century when massive irrigation development depleted the river's water thus robbing it of its native Coho and Chinook salmon spawning habitat. Excessive irrigation continues today in the Shasta Valley, where water-hungry crops are grown in a desert environment.  Although the Shasta River historically has flowed at rates greater than 150 cubic feet...
Sunday, June 13, 2021
The City of Mt. Shasta is preparing a mobility plan called Walk Bike Ride Mt. Shasta. Through this effort, the City will develop strategies and ideas for transportation improvements to foster a vibrant, sustainable community with accessible connections between businesses, neighborhoods, schools, and our surrounding natural environment.
How can streets be made safer? How can it be made easier for more people to walk, bike, or ride the bus to get where they need to go? How can the transportation system support local businesses, be resilient to climate change and adapt to changing technology?
The City will be working on this study from March...
Wednesday, May 26, 2021
It was reported at the May 10 Mount Shasta city council meeting that Crystal Geyser Water Company (CGWC) is not proceeding with their beverage bottling project and the property is up for sale. This was reported shortly after We Advocate Thorough Environmental Review (W.A.T.E.R.) and the Winnemem Wintu Tribe (WWT) filed a brief with the State Appeals Court challenging Siskiyou County's shockingly inadequate Environmental Impact Report (EIR) for the CGWC beverage bottling plant. W.A.T.E.R., the WWT, and large numbers of local residents and others concerned about the environment enthusiastically welcome the departure of Crystal Geyser.As many people...
Wednesday, May 12, 2021
At the May 11 Mount Shasta city council meeting council member Tim Stearns stated that Crystal Geyser representatives had called council members to inform them that Crystal Geyser has "no intention of proceeding" with the project, that they have placed the property up for sale and that they have "vacated" the building that was to be the beverage bottling plant on Ski Village Drive. Council member Stearns advocated using this information to annex the property into the city limits to have more control over the property's future development. Stearns had previously been one of the major boosters of the project, having "cut the ribbon" for it at a ceremony...
Monday, March 29, 2021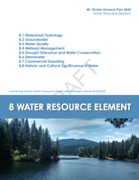 The City of Mount Shasta is planning to update the city's general plan (City General Plan webpage). Included in this is an important section on water usage and planning (Water Resource Element PDF). W.A.T.E.R. found serious deficiencies in this document and has submitted comments to further protect and preserve our water resources. Some of our comments: •  "All ordinances on the books must be reviewed as to how the Water Element is affected. For example, the Water Bottling exemption is still on the books, that must be removed as soon as possible. Every project must be permitted and able to be reviewed rather than ministerial permits which allow projects...
Monday, January 25, 2021
Submitted by Geneva Omann
I am here as a representative of the non-profit, WA.T.E.R. to request that the City Council send a formal request to Siskiyou County asking that they initiate negotiations with Pacific Power  to put the powerlines associated with the Lassen Substation upgrade project underground. Please make this an agenda item for your next meeting and act as quickly as possible.  The area for these lines is within your "sphere of influence" and as an agency, keeping our area safe from fire danger is crucial.  
These lines are in unincorporated Siskiyou County and the County has $5 million in Rule 20A funds that are expressly...
Wednesday, January 20, 2021
Reckless Logging Will Increase Wildfire Risk for Mountain Towns
By Karen Maki, Jeff Stone, and Raven Stevens for We Advocate Thorough Environmental Review
Over four million acres burned in California in 2020.  Despite this unprecedented climate disaster, CalFire is poised to increase future wildfire risk for residents of Dunsmuir, Mt. Shasta City, McCloud and Castella by approving the Soda Springs Timber Harvest Plan (THP), which would use an unnecessarily dangerous even-aged logging method, similar to clearcutting. 
Changes to Forest Management Will Reduce Wildfire Risk
California officials and state agencies have repeatedly...
Monday, January 4, 2021
First Call for Action in 2021!
It takes our collective voices to make change. Contact the Mt. Shasta City Council, Board of Supervisors and the Public Utilities Commission (CPUC) and demand the power lines be put underground. They need to hear from the community!
Speaking at the December 14 Mount Shasta City Council meeting, W.A.T.E.R. continued to push for undergrounding the proposed power line expansion along Old Stage Rd, crossing Fish Hatchery Ln. This project proposes to enlarge and heighten the power lines leading from the power substation to the Crystal Geyser plant, the primary beneficiary of this project. This power line project...
Monday, November 23, 2020
Mt. Shasta is at a pivotal turning point, we know that single use plastic is devastating the environment and most plastic is NOT recycled. W.A.T.E.R. is working with local agencies and businesses to reduce plastic use right here in Mt. Shasta. During last July 4th's walk/run, the Mountain Runners stopped distributing single use water bottles in favor of water refill stations, greatly reducing the amount of plastic waste from that event. What an exciting shift!  W.A.T.E.R. then worked with the City of Mt. Shasta Beautification Committee and City Council who approved a water bottle refill station and ADA Drinking Fountain Water Bottle Refill Station...
Monday, November 9, 2020
Last December we noticed that Crystal Geyser removed two large cooling units from the North side of the building. Within the last month Crystal Geyser also removed two large gas tanks and an evaporator on the East side. Crystal Geyser has not revealed changes to their previously stated plans for the plant or its operations. In a continuing pattern of secrecy, as far as we know, neither Siskiyou County or City of Mount Shasta officials have been informed of what Crystal Geyser plans to do with the plant. In January 2020 a Crystal Geyser spokesperson said they "continue to assess (their) California business strategy..." (Mount Shasta Herald).  
Monday, November 2, 2020
Find out what W.A.T.E.R. has been up to in the last year.
Our annual report highlights our organization's mission statement and how we turn this into concrete actions.
The primary objectives and purposes of our organization are to:
• Advocate for the preservation of natural resources and a healthy environment. 
• Advocate for long-range community planning and regenerative practices to protect all citizens and to promote a thriving community.  
• Communicate these concerns to local government officials and agencies.
• Encourage community-wide participation through educating the public about these issues. 
• Defend...
Wednesday, September 30, 2020
While there has been no public announcement, Water for Citizens of Weed, California (WCWC) has learned that Crystal Geyser Roxane has withdrawn its proposal for the development of a controversial waste water leach field in Weed. 
Last November CG Roxane applied to the Weed Planning Commission for tree cutting permits and easements to start development of the leach field. This occurred after it was discovered that the company's settlement ponds were overflowing and sending waste water directly into Black Butte Creek, a Boles Creek tributary. CG Roxane was then forced to start sending its waste water into the City of Weed's waste water treatment...
Tuesday, September 29, 2020
More Bottlers on the Horizon?  June 22, 2020, marked the end of the extended six year contract between McCloud Artesian Spring Water Co (Artesians) and the McCloud Community Services District (MCSD) for the purchase and sale of McCloud's precious spring water.  The promises of bottlers have once again failed in McCloud. 
It was in September 2009 when Nestle Waters North America walked out of McCloud after 6 long years.  Challenges of an inadequate EIR went as far as the California Attorney General's Office and continued citizen objections led Nestle to switch gears, abandon their project and head out of town.  
On June 22nd, 2020, the MCSD...