LOCAL OPINION: New power lines should be underground
Submitted by We Advocate Thorough Environmental Review
"Why the hell do we still have overhead wires in fire-prone areas?" - Gov. Gavin Newsom
Here is an easy quiz about starting fires from power lines strung up on towers, in comparison with undergrounding those lines.
(1) Which is more likely to break in the wind? In an ice-storm?
(2) Which is more likely to be severed by a falling or flying tree limb?
(3) Which is more likely to be struck and damaged by lightning?
(4) Which is more likely to present a target for deliberate sabotage?
If you answered all questions with "Obviously, power lines strung up on towers," most all reasonable people would certainly agree with you. But not the most important people. An official of the California Public Utilities Commission wrote, in reference to undergrounding power lines for a local project here in Mount Shasta, "... there is no evidence to support that doing so would result in a safer system."
The official, Robert Haga, was responding to many dozens of local residents who specifically asked at a public hearing in 2018 (and in follow-up letters) that a replacement power line (from the Lassen Substation on South Old Stage Road to the yet-to-open Crystal Geyser Plant on Ski Village Drive) be undergrounded rather than strung up on new tall towers.
This CPUC opinion gives the green light to the tower project, and rejects undergrounding. But it is surprising, even by the CPUC's generally pro-utility company standards. According to CPUC's own website map, the proposed power line runs right through the middle of a "Tier-3" fire threat area. According to the CPUC: "Tier 3 fire-threat areas depict areas where there is an extreme risk (including likelihood and potential impacts on people and property) from utility associated wildfires."

Check Out Our Facebook Page
Keep up to date with the latest updates and news from W.A.T.E.R. by signing up for our newsletter HERE.
We Advocate Thorough Environmental Review, more commonly known as the W.A.T.E.R. group, is a grassroots, non-profit 501(c)3 organization dedicated to protecting Mount Shasta's water and other natural resources from privatization and depletion by extraction for corporate profit, protecting groundwater from contamination by industrial activity, and protecting the environment from other inappropriate and polluting industrial/commercial activities.
The primary objectives and purposes of our organization are to:
1) advocate preservation of natural resources and a healthy environment;
2) advocate long-range community planning and regenerative practices to protect all citizens and to promote a thriving community;
3) communicate these concerns to local government officials and agencies;
4) encourage community-wide participation through educating the public about these issues;
5) defend these issues with public interest litigation activities if necessary.
We envision a community that stewards our natural resources, engages in local governance to control its destiny, and provides for the needs of all people. We envision a community where the rights of minorities and Indigenous Peoples are woven into the fabric of the community at large. We envision an economy that provides living wages with jobs that allow community members to develop their full human potentials and that facilitate a connection with nature, all while regenerating and sustaining our natural resources and environment.
W.A.T.E.R. and Winnemem Wintu Tribe Guest Opinion Article in Mount Shasta Herald
We all know that advertisements by giant corporations are not always reliable sources of truth.  A case in point is the full-page ad by Crystal Geyser Roxane (CGR, a French/Japanese multinational corporation with a plant in Weed) in the June 3, 2020, Mt. Shasta Herald.  In big bright red colored print, CGR informs us that it is "Committed to the Environment" and "Committed to You".  We might contrast those self-serving pronouncements with their actual recent behaviors:
•1•  An internal CGR document was accidentally sent to the newspaper of Lewis County, WA, where CGR wants to set up a water bottling plant in spite of major citizen and County government official opposition.  In the email, a CGR official admits they are "fortunate not to have been sued yet", suggests to "hire a PR firm solely for the purpose of gathering grassroots supporters", and proposes to sue area landowners to "get them to the table". (1)
•2•  CGR is the main driver of Roseburg Lumber's demand to take over Weed's historic 100-year water supply (Beaughan Springs), cut the City off, and then sell the water to CGR.  In its full page ad, CGR says "we take our responsibility to our... community very seriously". But according to videoed public statements by the Weed mayor and a City Councilmember, the founder  of CGR (and father of its CEO) threatened to "blow up" the Weed plant if he did not get all the water he demanded. (2)  (Later that month, other CGR officials "apologized" for those comments). (3)  As a result, the City of Weed has already expended substantial amounts of money on legal fees in efforts to re-claim their share of the Beaughan Springs water.  The costs to the community will likely continue for decades.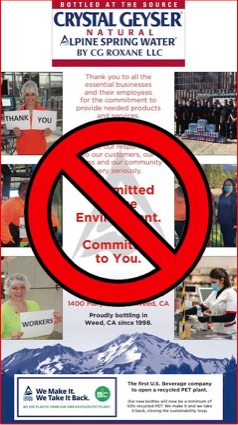 Yes, that is W.A.T.E.R. Board Member Raven Stevens in the Green Shirt on the left.
For several years W.A.T.E.R has been participating in the NGO Groundwater Collaborative. The NGO Groundwater Collaborative helps non-governmental organizations (NGOs), Tribes, and California residents share information and resources to help each other participate in the state's groundwater management programs. See HERE to read an interview on involving community groups in groundwater decision making.
McCloud Water Bottling Contract Terminated.
More Bottlers on the Horizon?
June 22, 2020, marked the end of the extended six year contract between McCloud Artesian Spring Water Co (Artesians) and the McCloud Community Services District (MCSD) for the purchase and sale of McCloud's precious spring water. The promises of bottlers have once again failed in McCloud.
It was in September 2009 when Nestle Waters North America walked out of McCloud after 6 long years. Challenges of an inadequate EIR went as far as the California Attorney General's Office and continued citizen objections led Nestle to switch gears, abandon their project and head out of town.
On June 22nd, 2020, the MCSD Board terminated another 6 year agreement. That's two failed attempts at grabbing the very same spring water. The Artesians were never able to buy land or successfully create a legitimate EIR. Their project was outlined in a January 2018 Notice of Preparation. W.A.T.E.R. responded to the Artesian CEQA Notice of Preparation, (see full response HERE), but project concerns were never answered.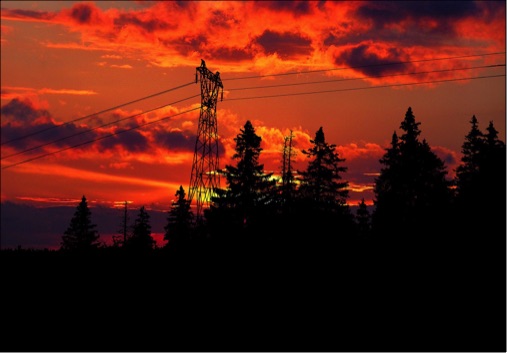 W.A.T.E.R. takes "plastic free" petition to local retailers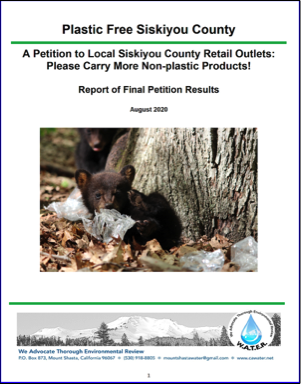 As we hear in headlines almost daily, plastic pollution is a world-wide, catastrophic and growing problem for our oceans, other ecosystems, as well as all of humanity and wildlife.
Many in our community as well as all over the world are concerned about this growing problem and would like to do what we can to stop it. Although many of us recycle what we can, we recognize that our current plastic recycling infrastructure falls far short of effectively addressing the pollution issue. Because of the ongoing subsidies to the petroleum industry, virgin plastic is so cheap there likely will never be effective recycling options. Many of us have chosen to reduce the use of plastics in our households (for more information, see cawater.net), however, this can be challenging if we are not given the option to purchase non-plastic products. Thus we consumers cannot solve this problem alone.
Engaging Local Retailers
It is a constant challenge to find in our local stores products that are plastic-free. We are asking that our local retailers do their part to reduce plastic pollution by stocking on their selves products that are neither made from nor packaged in plastic. The petition, signed by 261 community members, demonstrates the community interest in having such products available.
See the petition report HERE.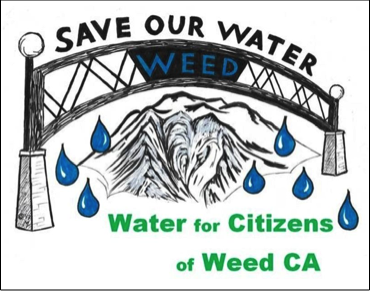 Facing Community Opposition, Crystal Geyser Roxane Drops Leach Field Proposal!
While there has been no public announcement, Water for Citizens of Weed, California (WCWC) has learned that Crystal Geyser Roxane has withdrawn its proposal for the development of a controversial waste water leach field in Weed.
Last November CG Roxane applied to the Weed Planning Commission for tree cutting permits and easements to start development of the leach field. This occurred after it was discovered that the company's settlement ponds were overflowing and sending waste water directly into Black Butte Creek, a Boles Creek tributary. CG Roxane was then forced to start sending its waste water into the City of Weed's waste water treatment system. In order to avoid the ongoing expense of using the City's treatment system, CG Roxane had hoped to develop a new leach field in the area of Alves Road and Mary's Drive.
In the presentation to the Weed Planning Commission, the waste water was described as "clean." However, a public records request from WCWC to the North Coast Regional Water Quality Board (NCRWQCB) revealed that the company's waste water contains a number of chemicals harmful to people and wildlife. WCWC also discovered that the leach field would be located only 250 feet from the City of Weed's Mazzei Well, an important source of drinking water for the community.
W.A.T.E.R. is working with the City to install a water refill station in Parker Plaza.
Mt. Shasta is at a pivotal turning point, we know that single use plastic is devastating the environment and most plastic is NOT recycled. W.A.T.E.R. is working with local agencies and businesses to reduce plastic use right here in Mt. Shasta.
During last July 4th's walk/run, the Mountain Runners stopped distributing single use water bottles in favor of water refill stations, greatly reducing the amount of plastic waste from that event. What an exciting shift!  W.A.T.E.R. then worked with the City of Mt. Shasta Beautification Committee and City Council who approved a water bottle refill station and ADA Drinking Fountain Water Bottle Refill Station & ADA drinking fountain for humans and dogs at the NW corner of Parker Plaza. This will help reduce plastic waste from future downtown events.  Your contributions to W.A.T.E.R. will help ensure installation this coming summer as well as support our many other projects designed to protect our alpine home.  Thank you for your generosity!
Crystal Geyser removes equipment from Mt. Shasta plant.
Last December we noticed that Crystal Geyser removed two large cooling units from the North side of the building. Within the last month Crystal Geyser also removed two large gas tanks and an evaporator on the East side. Crystal Geyser has not revealed changes to their previously stated plans for the plant or its operations. In a continuing pattern of secrecy, as far as we know, neither Siskiyou County or City of Mount Shasta officials have been informed of what Crystal Geyser plans to do with the plant. In January 2020 a Crystal Geyser spokesperson said they "continue to assess (their) California business strategy..." (Mount Shasta Herald).  Our Court case against the flawed Crystal Geyser EIR continues as we wait for a hearing date to be set by the Appellate Court in Sacramento.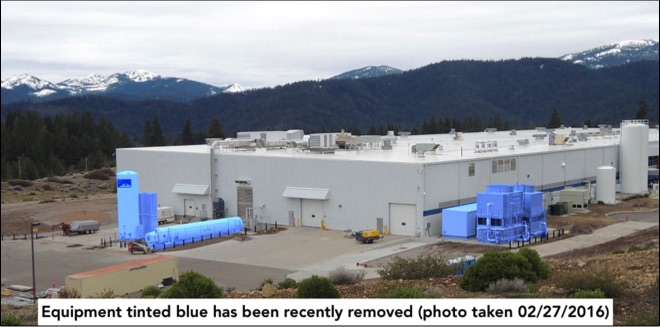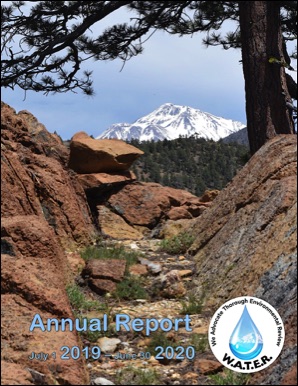 W.A.T.E.R.'s fiscal year 2019-2020 annual report is now available HERE!
Find out what W.A.T.E.R. has been up to in the last year.
Our annual report highlights our organization's mission statement and how we turn this into concrete actions.
The primary objectives and purposes of our organization are to:
• Advocate preservation of natural resources and a healthy environment.
•  Advocate long-range community planning and regenerative practices to protect all citizens and to promote a thriving community. 
• Communicate these concerns to local government officials and agencies.
• Encourage community-wide participation through educating the public about these issues.
• Defend these issues with public interest litigation activities if necessary.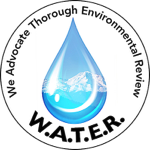 Expanded Power Lines on Old Stage Road Pose Fire Risk!
First Call for Action in 2021!
It takes our collective voices to make change. Contact the Mt. Shasta City Council, Board of Supervisors and the Public Utilities Commission (CPUC) and demand the power lines be put underground. They need to hear from the community!
Speaking at the December 14 Mount Shasta City Council meeting, W.A.T.E.R. continued to push for undergrounding the proposed power line expansion along Old Stage Rd, crossing Fish Hatchery Ln. This project proposes to enlarge and heighten the power lines leading from the power substation to the Crystal Geyser plant, the primary beneficiary of this project. This power line project should be undergrounded to prevent fire dangers and not paid for by rate payers. W.A.T.E.R. board member Geneva Omann told the council members: "Undergrounding is more expensive, although not nearly as expensive as burning down a whole town and its beautiful surroundings." She went on to provide ideas for funding this project. See her full comments HERE.  W.A.T.E.R. board member Dan Axelrod further informed the city council, "There is no question that above-ground power lines are far more susceptible to weather and wind damage and to starting fires than undergrounded lines. As you know, the Sierra foothill town of Paradise was destroyed two years ago by a PGE above-ground powerline failure, and they are now rebuilding the lines entirely underground because that is safer. Indeed, Pacific Power also knows the hazard, which is why they are now doing power shutoffs on hot windy days, done twice this year already in parts of this area, a strategy that has its own obvious inherent public safety risks." See his full comments HERE. W.A.T.E.R. has also written to the CPUC, see our letter HERE and to the Siskiyou County Board of Supervisors, see HERE.
Make your voice heard!
Contact the Mount Shasta City Council, the Siskiyou County Board of Supervisors and the Californian Public Utilities Commission with your concerns about this project and demand they work together with Pacific Power to underground the power transmission and distribution lines (cite project number CPUC # A.15-11-005).
Contact Links:
Siskiyou County Board of Supervisors
California Public Utilities Commission, Docket Office
505 Van Ness Avenue, Room 2001
San Francisco, CA 94102